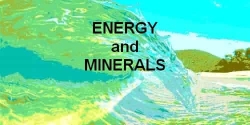 ENERGY / MINERALS
PLUS....
Kinds of Igneous Rock
Types of Magma
Eruption of Magma
Origin of Magma
Origin of Basaltic Magma
Origin of Granitic Magma
Origin of Andesitic Magma
Magmatic Differentiation
Bowen's Reaction Series
Volcanoes and Volcanic Rocks
Plutons
PLUS...
Definition of Metamorphism
Grade of Metamorphism
Retrograde Metamorphism
Factors that Control Metamorphism
Responses of Rock to Increasing Metamorphic Grade
Metamorphism of Basalts and Gabbros
Metamorphism of Limestone and Sandstone
Types of Metamorphism
Metamorphic Facies
Metamorphism and Plate Tectonics
Pressure -temperature diagram showing metamorphic rock types
Foliated texture in metamorphic rocks
The importance of xenoliths and inclusions in rocks:
PLUS...
Introduction to Sedimentary rocks
Clastic Sediments
Textures of Clastic Sedimentary Rocks
Chemical Sediments and Sedimentary Rocks
Biogenic Sediments and Sedimentary Rocks
Features of Sedimentary Rocks That Give Clues to the Environment of Deposition
Stratification and Bedding
Sedimentary Facies
Common Sedimentary Environments
Fundamental concept - superposition
Sorting in sedimentary rocks
Types of sedimentary bedding
Clastic Sediments
Makeup of clastic sediments
Size chartof clastic sediments
Shape of Sedimentary Clasts
Roundness and Sphericity
Names of shapes
Change in mineral composition of sediments as they travel downstream
Pore space in sedimentary rocks
Grain vs. Matrix supported sediments
Siliceous Sediments:
Arenites / Wackes / Mudstones - general
Arenites and Wackes - detail
Animations of the Formation of Rock Types
Igneous rock formation animation
Sedimentary rock formation animation
Metamorphic rock formation animation
A Photographic Atlas of Rock Breakdown
Features in Geomorphic Environments - opens in new window(15Mb! PDF file)
---
Percent crustal abundance of the common minerals
'click on any name to see an image..."

anhydrite
apatite 1
2
arsenopyrite
asbestos
barite
calcite1
2
cassiterite
chalcopyrite 1
2
chlorite
chromite
corundum
diamond
feldspar-albite
feldspar-microcline
feldspar-orthoclase 1
2
3
4
feldspar-plagioclase1
2
3
fluorite1
2
galena1
2
garnet
gold
graphite
gypsum 1
2
halite(salt)
hematite/haematite
hornblende 1
2
ilmenite
kyanite
limonite
magnetite1
2
manganese ore
mica-biotite1
2
mica-muscovite1
2
3
mica-phlogopite
molybdenite
olivine
pyrite1
2
pyroxene1
2
pyrrhotite
quartz1
2
3
4
5
6
rutile
siderite
smaltite
sphalerite1
2
stibnite
talc1
2
3
topaz1
2
tourmaline
zircon
---
Australian Mineral Systems
Classification of Mineral Deposits
Mineral Sand Deposits
Salt Deposits
courtesy of
http://www.saltinstitute.org
Olympic Dam Type Deposits
Tin Deposits
Uranium Deposits
Insitu Leach Uranium Deposits
Evaluating Mineral Deposits
Brief Glossary of Common Ore Deposit Terms
Gold Placer Deposits
and the
Palmer River Goldfield
Gemstone Names
Diamond Deposits
Oil Deposits
Geothermal Related Deposits
Acid Mine Drainage
Ancient MiningTechniques
the following mineral deposit overviews courtesy
-
BC and Yukon Chamber of Mines
Introduction to Prospecting and Exploring for Mineral Deposits
(adapted) by Dr. Gerry Carlson
Magmatic Base Metal Deposits
(abridged) By Luca Riccio ,John McDonald
Volcanogenic Massive Sulphide Deposits
by Dave Watkins and Bruce Downing
Ni-Cu-Co Type Magmatic Massive Sulphides
from NewfoundlandMining
Epithermal Vein-Type Gold Deposits
modified from notes by Christine Norcross
Prospecting Guidelines for Chromium, Nickel and Platinum
(abridged) by Luca Riccio
Porphyry Copper Deposits
by Bill McMillan
Skarn Deposits
(adapted) by Larry Meinert and Dr. Kenneth Dawson, Ph.D., P.Geo
Vein Type Deposits
(adapted) byTom Schroeter
Mineral Deposit Sampling Techniques
- under development
Light
Transparency
Reflection of Light
Refraction
Total Internal Reflection
Dispersion
Plane Polarized Light
Minerals
Crystal Symmetry
Crystal Systems
List of Major Gemstones by Crystal System
Optical Effects in Gemstones
Lustres
Sheen
Interference of Light
Iridescence
Play of Colour
Diffraction
Opalescence
Chatoyancy
Asterism
Spectroscope
Stress and Strain
Stages of Deformation
Brittle-Ductile Properties of the Lithosphere
Deformation in Progress
Evidence of Former Deformation
Fracture of Brittle Rocks
Normal Faults
Horsts and Gabens
Half-Grabens
Reverse Faults
Thrust Fault
Strike Slip Faults
Transform-Faults
Evidence of Movement on Faults
Folding of Ductile Rocks
Monoclines
Anticline
Synclines
Geometry of Folds
Classification of Folds
The Relationship Between Folding and Faulting
Folds and Topography
---
Offshore Oil Drilling
Refining of Crude Oil
Oceans & Oil Spills
Fuels
Gas
Oil Deposits
Oil Shale and Tar Sands
Coal Seam Gas
Coal Mining and Coal Formation
"Clean coal" electricity generation
Carbon capture and sequestration - CSS technologies
---
GEOTHERMAL
Geothermal Energy
Geothermal Related Deposits
Solar Energy and Photovoltaics
Wave Power
Wind Power
Ancient Vertical shaft windmills
Wind towers - passive cooling
Qanats - redirecting underground water
Biofuels - Biodiesel and Alcohols
Hydroelectric Power and RAM Pumps
Geology of Uranium Deposits
Insitu Leach Uranium Deposits
Fuelcells