Igneous Rocks
source
http://www.columbia.edu/~vjd1/igneous.htm
https://wwwf.imperial.ac.uk/earthscienceandengineering/rocklibrary/
http://keywordsuggest.org/gallery/1116670.html
https://www.uwgb.edu/dutchs/EarthSC202Notes/igneous.htm
https://www.usgs.gov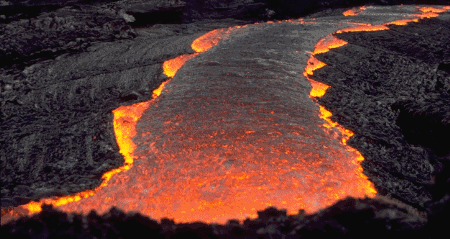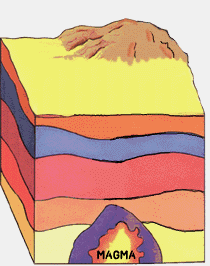 animation of igneous processes
Of the three principal rock types (igneous, sedimentary, and metamorphic),
igneous rocks
can be thought of as
"primary" rocks
because they crystallise from a liquid.
Sedimentary and metamorphic rocks
may be thought of as
derivative rocks
.
Igneous rocks are rocks formed from the crystallization of a liquid (molten rock). Igneous rocks may be divided into three - categories.
Intrusive or plutonic rocks crystallise from magma beneath the earth's surface.
Hypabysal rocks - crystalise from magma at shallow depth below the surface
Extrusive or volcanic rocks crystallise from lava at the earth's surface.
The texture of an igneous rock (fine-grained vs coarse-grained) is dependent on the rate of cooling of the melt:
slow cooling forms large crystals - magmas and their resultant plutonic rock bodies cool and crystallise slowly
and are characterized by coarse-grained texture in which the mineral crystals are visible to the unaided eye
fast cooling forms small crystals -lavas cool quickly at the earth's surface
and are characterized by fine-grained texture, in which the crystals are too small to be seen by the unaided eye.
very quickly cooled - lavas, typically those quenched in water, will have a glassy texture. They cool too quickly to form crystals.
Glasses do not have an orderly arrangement of atoms and there are therefore no minerals, in the strict sense, in them. Volcanic glass is called obsidian
.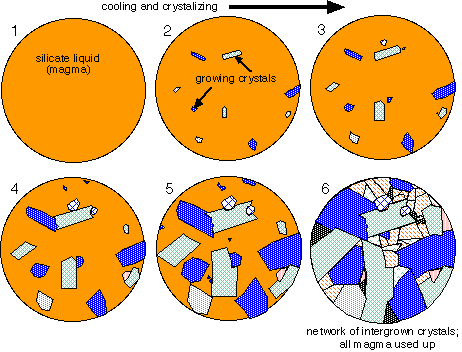 In addition to texture, igneous rocks may are classified according to their chemical composition.
The most general classification is based on the relative abundance in a rock of felsic (
fel
dspar and
si
lica-quartz) minerals vs mafic(
ma
gnesium and
ferrum
or iron) minerals.
felsic minerals (quartz, K feldspar, etc) are light colored while - felsic minerals have the lowest melting points (600 to 750 °C)
mafic minerals (hornblende, pyroxenes) are normally dark colored - mafic minerals have higher melting points (1000 to 1200 °C).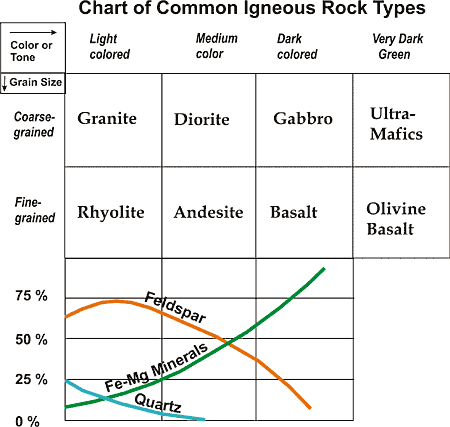 Identification by crystal size, felsic / mafic composition and colour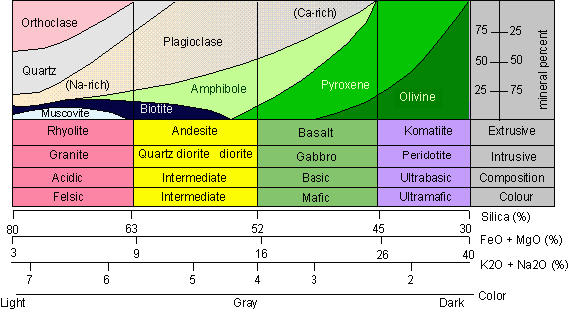 A more detailed identification chart based on felsic / mafic mineral composition
can be thought of as an idealized
order of crystallization of a cooling magma
.
However, not all of these minerals will be crystallised together in the same rock.
mafic magmas will begin crystallizing olivine and continue with pyroxenes and calcium rich plagioclase feldspar.
Some amphiboles may also crystallise before the melt is used up. Mafic melts don't have enough silica to crystallise potassium feldspar, quartz, etc.
Minerals form in the cooling magama in a "discontinuous series" , that is first one mineral --> then a different mineral --> then a different mineral and so on...
felsic magmas don't have enough iron, magnesium, and calcium to form olivine, pyroxene, or calcium plagioclase.
The first-formed minerals in a felsic melt are amphiboles (hornblende) or biotite mica, along with some intermediate or sodium plagioclase.
Eventually, as the melt continues to cool and becomes richer in silica (as the metal cations are used up preferentially in the double chain and sheet silicates) potassium feldspar and quartz crystallise.
minerals form in a " continuous series" that is to say ... for example: that the mineral feldspar remains as feldspar but its composition (the percent of potassium vs calcium) increases as the magma cools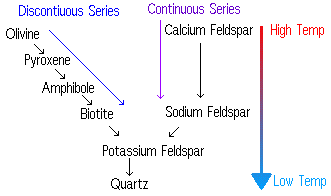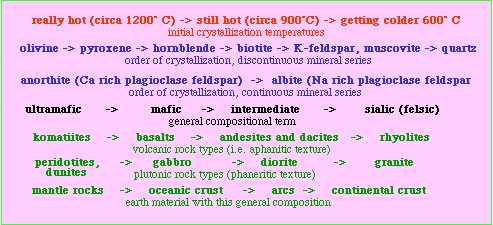 This system appears straight forward but as magmas cool their chemical composition changes as higher temperature elements drop out of the solution as minerals.
So for example a mafic magma can turn into a felsic magma as it cools...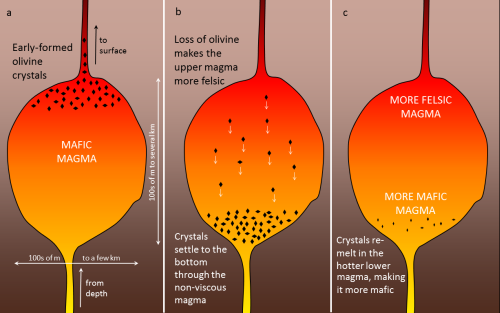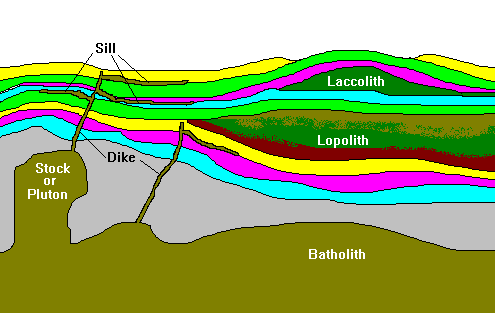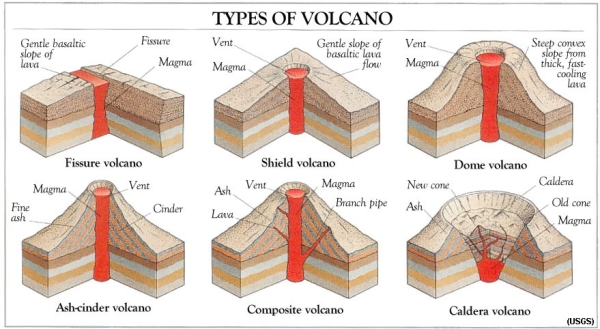 Intrusive Igneous Rocks
Extrusive Igneous Rocks
click on the links below to see an photo and a description of theses rocks...
Allotriomorphic-granular (gabbroic) texture
:
is a feature of phaneritic rocks in which all of the minerals have anhedral shapes; it is characteristic of some mafic and ultramafic rocks, such as dunite and pyroxenite.
Hypidiomorphic-granular (granitic) texture:
igneous texture in which most of the mineral grains are subhedral. Typical of granite, granodiorite, quartz monzonite, etc.
Porphyritic texture:
rocks in which larger grains are contained in a finer grained matrix. May occur in either intrusive or extrusive rocks, but it is most common in extrusive rocks such as basalt, andesite, dacite, and rhyolite.
Pyroclastic texture:
produced by explosive volcanism, broken clasts of mineral, lithic clasts, and glass shards are common. The clasts may be either sorted or unsorted. Common in tuffs.
Intergranular texture:
plagioclase laths with interstitial pyroxene grains that are smaller than the plagioclase; commonly found in basalts.
Intersertal texture
:
Small feldspars with glass or altered glass interstitial to the feldspars; common texture of basalts.
Ophitic texture:
Pyroxene grains partially or completely surround plagioclase laths; common texture of gabbros and basalts.
Trachytic texture:
Subparallel feldspars formed during flow in volcanic rocks.
Spinifex texture:
Interlacing olivine or pyroxene, a texture formed by quenching in komatiites.
Other features seen are:
Exsolution - occurs within grains on certain minerals (pyroxenes and feldspars). This can give an indication of pressure and hence depth.
Xenoliths - bits of the rock into which the magma intruded
Cumulate layer - when a mineral grows which is denser than the magma, it will sink to the base of the chamber causing a cumulate layer. Minerals may form from liquid trapped between the grains - interstitial minerals.