Mud Crab - the perfect place to become a preserved fossil
An ancient mudcrab tells its story
My story - how I became a preserved fossil
Not all fossils are made of rock - some like me are made up of the original parts!
A preserved fossil is one where the hard parts remain intact and do not turn to rock themselves though the material surrounding them may turn to rock.
I was a mud crab living in a tunnel in the mud of an seaside swamp about 2 million years ago.
I lived in perfect conditions to become a preserved fossil near the sea namely:
one day the sea moved away, who knows the reason why? and my mud quickly dried up
surrounded by mud nothing could eat me or spread my shell around
in very salty hot water not well liked by bacteria so my shell remained intact though my insides rotted away
rotting vegetation made the mud low in oxygen so I was slow to break down
my soft insides are gone, but my hard outershell remains, filled with mud hardened to rock
while the mud around me turned to rock my original shell survived unchanged - so I am a preserved fossil, my original shell still intact after 2 million years!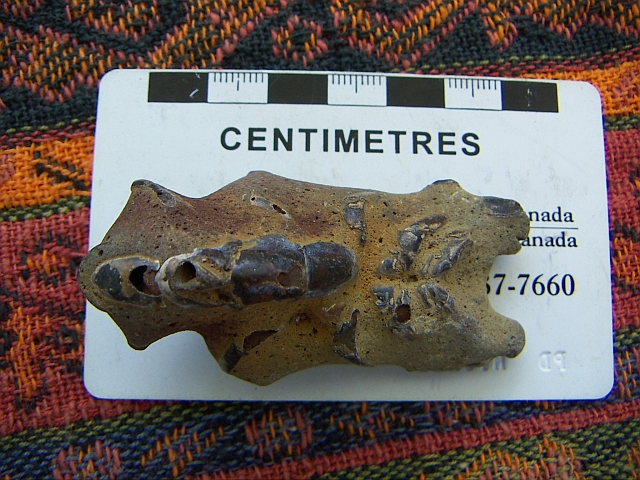 You can learn some lessons from me about fossils...
the fossil record is NOT a record of all the things that lived in the past - many soft bodied and delicate creatures may not be represented or are very rare in the fossil record
the fossil record IS a collection of the most hard durable parts coming from environments most favourable to fossilisation
big strong hard parts fossilise better than small hard parts
so you CANNOT COUNT fossils to find out what was common and what was not
for example dinosaurs were probably NOT very common, each would require a very large area for food, but the very durable hard parts DO collect in particular places making some people, such as movie producers, think they were common
many of the fossils you see come from situations where it was easy to become a fossil - like rivers, lakes, sea shores
few fossils are recovered from areas formerly woodlands, deserts, mountains, glaciers
Learn more about
OCEANS AND THEIR MARGINS
and
INDEX FOSSILS