If it looks like poo...coprolites - a piece of ancient poo tells its story

Yes indeed ancient
poo can be preserved as fossils
. Scientists call a piece of fossilised poo a
"coprolite".
I am a 4.2 million year old crocodile poo. a "coprolite", from north Queensland Australia laid on coarse sandbank of a river that ran through granitic igneous rocks
My piece of poo can tell you as a crocodile crocodile ate. My poo contains fragments of large turtle shells and marsupial megafauna bone fragments (cow size marsupials)
My coprolite size indicates that this was one BIG crocodile!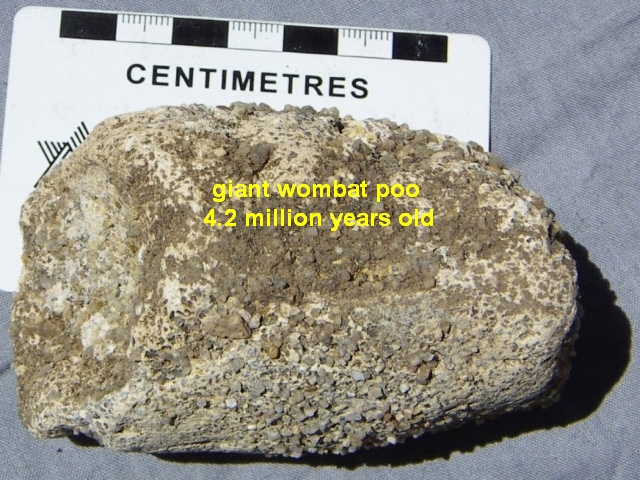 Coprolites are fossilised poo!
You can learn a lot from coprolites!
There is likely a lot of potential to learn a lot more from coprolites than is currently done.
Coprolite inclusions (things that are part of / stuck in / or on the poo) may give us useful information
teeth, bone hair, feather, scales, claws .. fragments may tell us what a carnivore ate and where they ate it (forest, grass lands,swamp, in the canopy, in the sky - flying...)
the above inclusions may also give us an idea of when the creature ate (that is day or night active prey)
plant type inclusions may give indications of the climate (temperate, alpine, tropical, arctic, desert...) of an area and the season of the year, seeds and fruit pits also indicate time of year
coprolite size may give some indication of the size of the creature how much or how often a creature ate and its general health
coprolite shape, when compared to modern faeces (poo) might help identify the creature particularly if there are other fossil remains present can indicate how much a creature ate maybe how often
the health quality of the inclusions may indicate (example wear and quality of teeth inclusion) may indicate whether it was" good times" or "bad times" for example sickly, malformed or highly worn teeth may indicate a drought and so on
bite, scratch, or insect digging marks may be found on the surface
the sediment that sticks to the coprolite may indicate the geology of the area where the coprolite was dropped (and whether it has been moved since that time). Grain size may indicate the level of energy (wind water) present and the roundness and sphericity of the grains qualititively on far the sediment has travelled, adhering shells may provid further environmental clues
are pollen grains present in coprolites? In New Zealand the dessicated coprolites of the giant extinct bird the Moa are being checked for pollen - Is pollen preserved in lithified coprolites?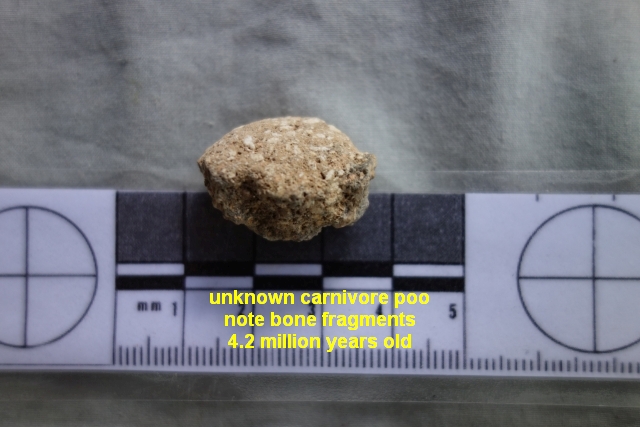 4.2 million year old plunge pool below a waterfall from north Queensland
Learn more about the
EXPEDITIONS
that located these interesting fossils
source http://journals.plos.org/plosone/article?id=10.1371/journal.pone.0040025
from the collection of Earth Science Australia
http://www.poozeum.com/coprolites.html