Magnetospheres
Information about interiors is aided by studies of planetary magnetic fields.
PLANETARY MAGNETIC FIELDS
source
http://lasp.colorado.edu/~bagenal/3750/ClassNotes/Class13/Class13.html
Below is a table showing the magnetic fields of the planets - or lack thereof.


Rotation Period (days)
Magnetic Moment (Earth=1)a
Field at Equator (gauss)
Field Ratiob Maximum / Minimum
Tilt of Dipolec (degrees)
Typical Magnetopause Distance
Plasma Sourcesd
(Rplanet)
(km)
Mercury
59
0.0007
0.003
2
+14°
1.5
0.04 x 105
W
Venus
243 (R)e
<0.0004
<0.0003
?
-
-
-
A, W
Earth
1.00
1
0.305
2.8
+10.8°
11
0.7 x 105
W,A
Mars
1.03
<2.5 x 10-5 f
<5 x 10-5 f
?
-
-
-
A, W
Jupiter
0.41
20,000
4.2
4.5
-9.6°
80
60 x 105
S, A, W
Saturn
0.44
600
0.20
4.6
-<1°
20
12 x 105
S, A, W
Uranus
0.72 (R)e
50
0.23
12
-59°
20
5 x 105
A, W
Neptune
0.74
25
0.14
9
-47°
25
6 x 105
S, A, W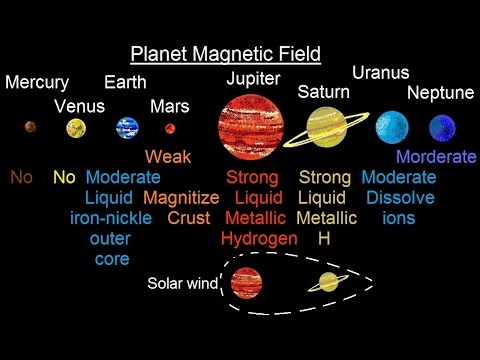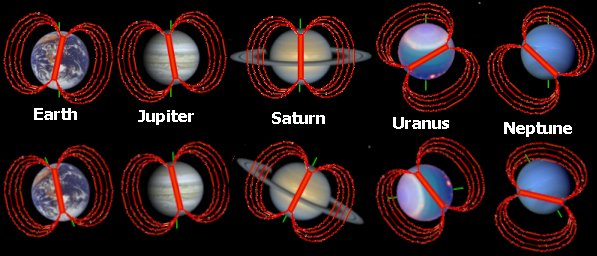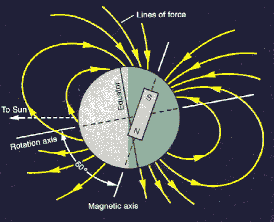 Magnetic Fields Are Detected By Radio Emission.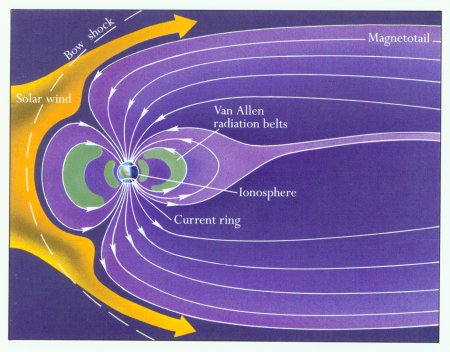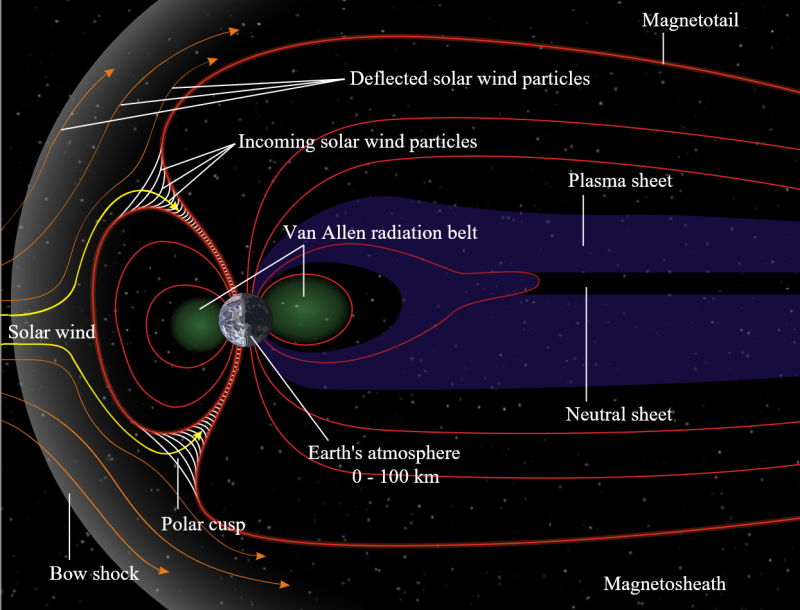 Magnetic Field: Moon
Lunar magnetic field is 107 times weaker than that of the Earth and lacks an internal dynamo
Due to slow rotation and lack of fluid core.
Localized regions of higher magnetic fields curious
Solar wind directly impacts the surface.
Creates a plasma void in the plasma umbra (perhaps the best vacuum in the solar system!)

Planetary Magnetic Fields: Venus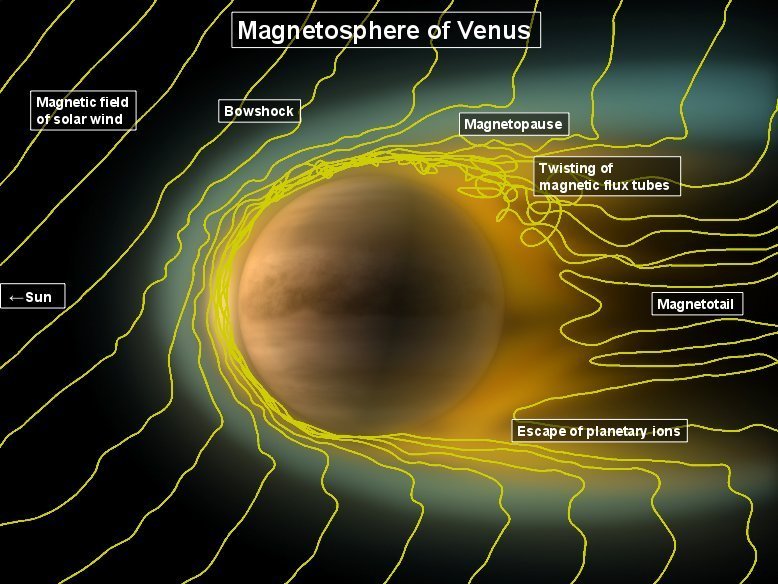 Venus as Earth's twin: Radius: 0.95 Mass: 0.81 Density: 0.95
We would expect similar magnetic properties to Earth.
Magnetic field of Venus is actually about 25,000 times weaker than Earth's.
Likely has a fluid core, so how can that be?........Slow Rotation!
Recall a dynamo requires a fluid core and rotation. Venus rotation period is 243 days.
Solar wind is prevented from reaching surface by thick atmosphere.
Bow shock results from interaction with ionosphere.
No population of permanently trapped particles.

Planetary Magnetic Fields: Mercury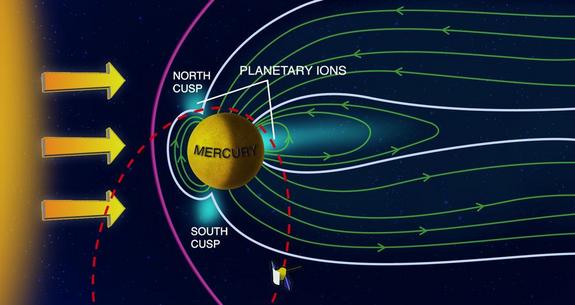 Weak magnetic field.
59 day rotation too slow for dynamo?
Bow shock, but no atmosphere.
Field too weak to contain particles.

Planetary Magnetic Fields: Mars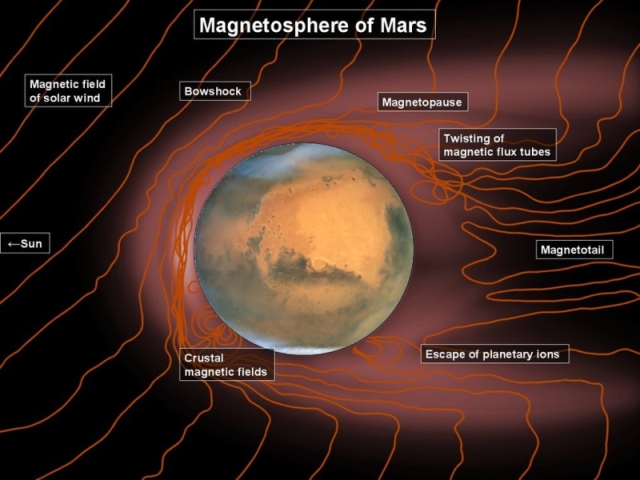 Field 5,000 times weaker than Earth's.
Solar wind interacts with ionosphere.
24.6 hr rotation fast enough for dynamo.
RMars = 0.53REarth and No fluid core.

Planetary Magnetic Fields: Jupiter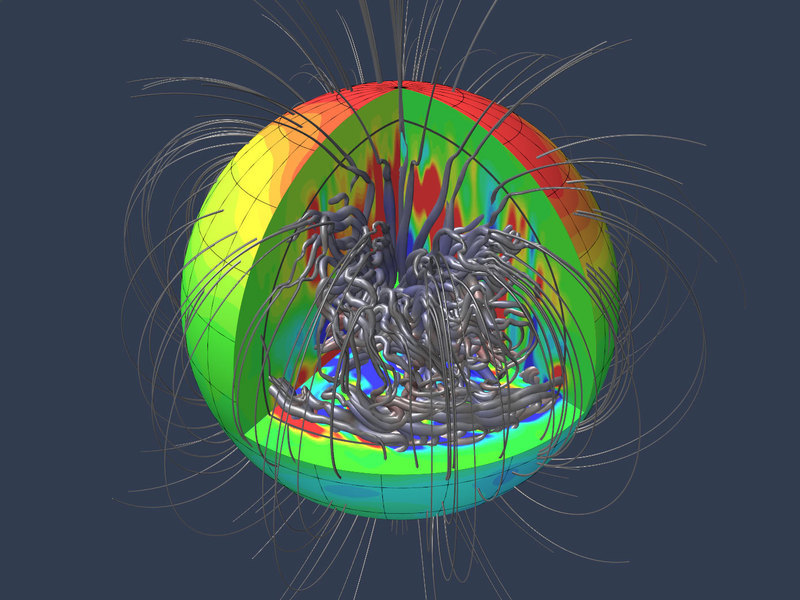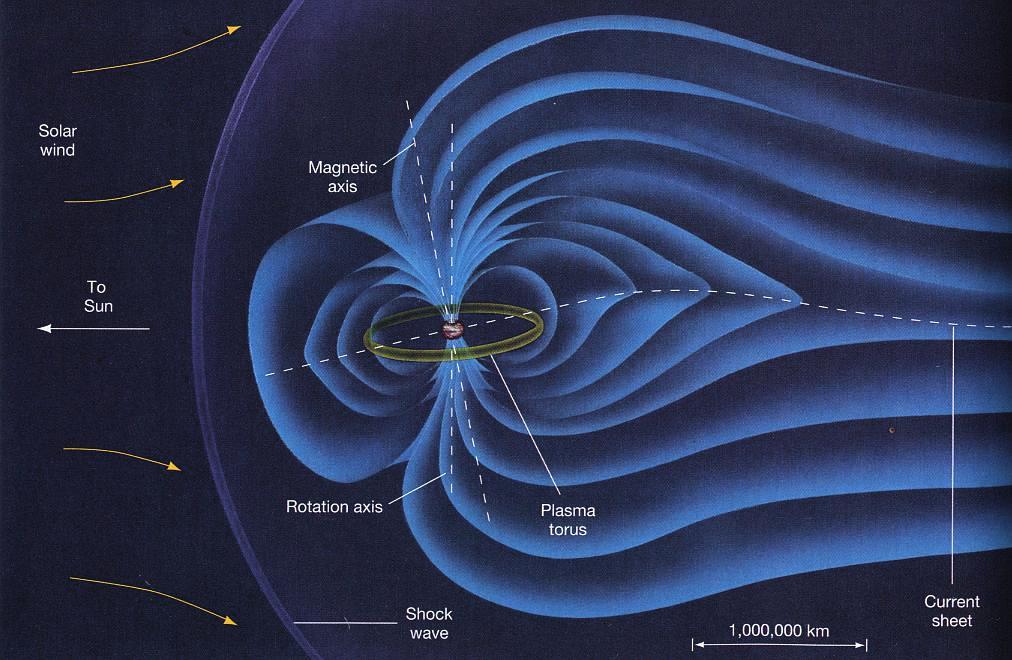 Enormous magnetic field (~20,000 times Earth's).
Magnetosphere is ~1200 times larger than Earth's.
Plasma derives from sulfur dioxide, hydrogen sulfide and other gases characteristic of Io!
Detected from Earth as Synchrotron Radiation. A torus of plasma, coincident with Io's orbit.
Aurora have even been imaged in Jupiter's atmosphere.

Magnetic Fields: Ganymede and Enceladus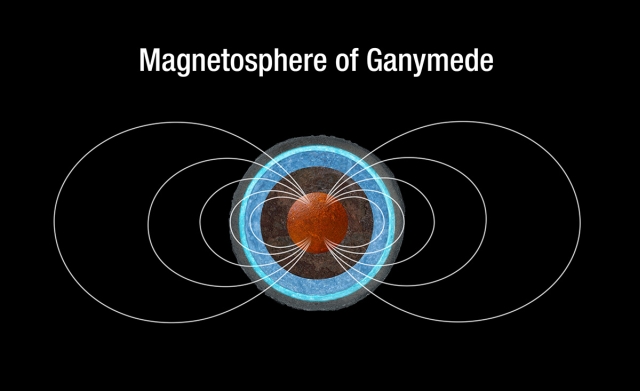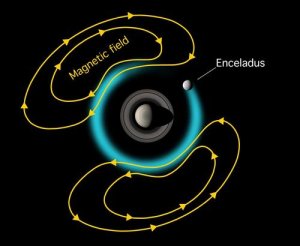 Galileo - first detection of a magnetosphere of a moon!
Magnetosphere entry is noise 6-10 sec into recording.
Pitch of tone indicates density of charged particles.
Planetary Magnetic Fields:Saturn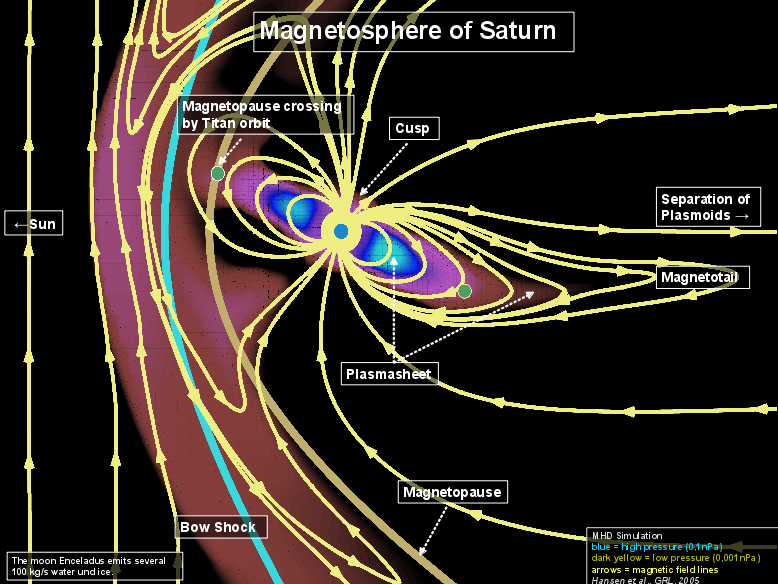 Intermediate between Jupiter and Earth: 540X Earth's, 36X less than Jupiter's.
Gas from Titan's atmosphere contributes nitrogen to the Saturnian magnetosphere.
Saturnian satellites and rings absorb charged particles, making inner regions free of particles.

Planetary Magnetic Fields: Uranus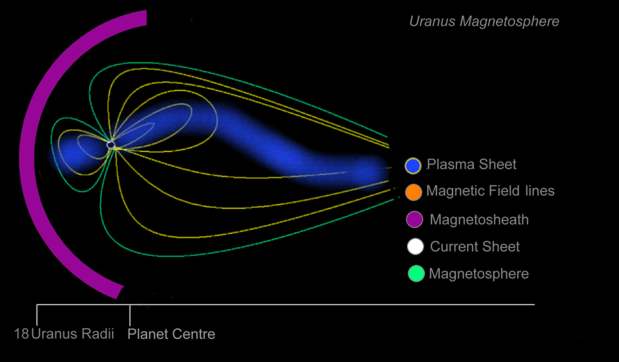 Field strength is about 40X greater than that of Earth.
Magnetic axis inclined 58.6o to rotation axis!
Magnetic center offset from core by 30% of radius!

Planetary Magnetic Fields: Neptune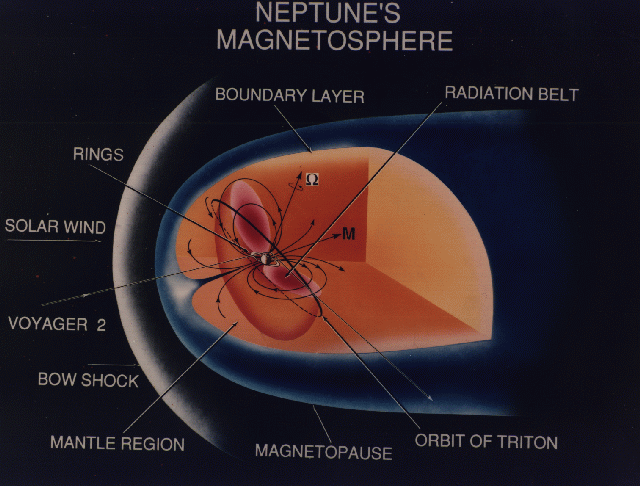 Magnetic field strength ~1/4 Earth's.
Magnetic axis inclined 50o to rotation axis.
Magnetic axis offset 10,000 km from core (25% of radius).

Planetary Magnetic Fields: Former Planet Pluto - no magnetosphere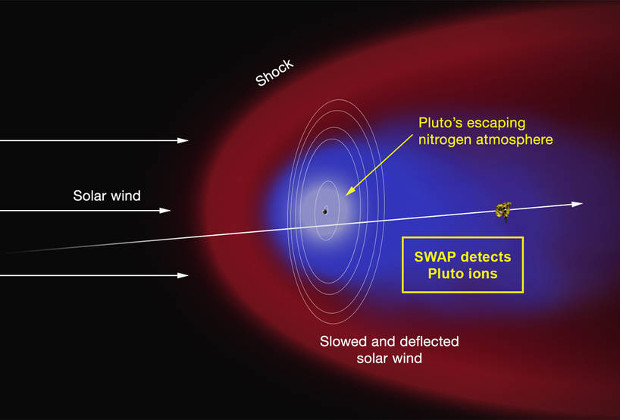 Small size and slow rotation (6.4 days).
Suggests little/no magnetic field likely.