Ichthyosaur Features
a mirror of some the content of
Ryosuke Degus's excellent webpage on Ichthyosaurs
in memory of Australia's Ichthyosaur hunter
Mary Wade 1928-2005
2. THREE STRANGE FEATURES
Fish-shaped ichthyosaurs had many unique features. I am pointing out four of them in the figure below, three of which are quite strange. These are:
Limb skeletons that look like corncobs
Gigantic eye bones
Vertebrae resembling ashtrays or hockey pucks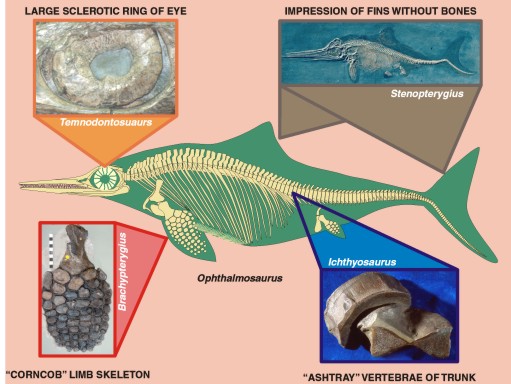 see also...
ICHTHYOSAURS
INTRODUCTION
FOREFIN
EYES
VERTEBRAE
SIZE
DIETS
SWIMMING
DIVING
PHYLOGENY
MARY WADE
LITERATURE
COPYRIGHTS
back to Earth Science Australia...