Sewage Treatment
adapted to HTML from lecture notes of Prof. Stephen A. Nelson Tulane University
Methods of treating sewage
Primary Treatment

Removing solids and some organic materials. (These are then dumped or landfilled somewhere).

Secondary Treatment

The main purpose of Secondary treatment is to reduce BOD (Biochemical Oxygen Demand)
Sludge dominantly made up of bacteria is a by-product.
Many plants use the activated sludge process in which sludge is added to more effectively reduce BOD
This form of treatment is standard now.

Tertiary Treatment

Major purpose is to reduce nitrogen and phosphates.
Nitrogen and phosphates act as fertilizers, and can cause serious problems when they get into our streams, ponds, lakes, oceans and sounds by enhancing the growth of algael blooms which results in eutrophication.
This form of treatment is still somewhat rare, but this is changing.
Tertiary treatment uses bacteria to denitrify nitrates in the water producing nitrogen gas which is then released into the atmosphere(NH3 --> NO3 --> N2).
Household sewage is comes from a variety of sources.
Sources of Household sewage
| | |
| --- | --- |
| Toilets | 40% |
| Bathing | 30% |
| Laundry | 15% |
| Kitchen | 10% |
| Miscellaneous | 5% |
Excluding about 1% solids, household sewage is 99.9% water.
Composition of Household Wastewater
Constituent Materials
Concentrations (ppm)
Dissolved Solids
500
Suspended Solids
200
Settleable Solids
(1%)
Biochemical Oxygen Demand
(BOD) material
200
Chemical Oxygen Demand
(COD) material
500
Nitrogen
40
Organic
15
Free Amonia
25
Nitrite
0
Nitrate
0
Phophorus
10
Organic
3
Inorganic
7
Chloride
50
Alkalines
100
Grease
100
Septic Tank System
In many areas the main type of sewage disposal is a septic tank system.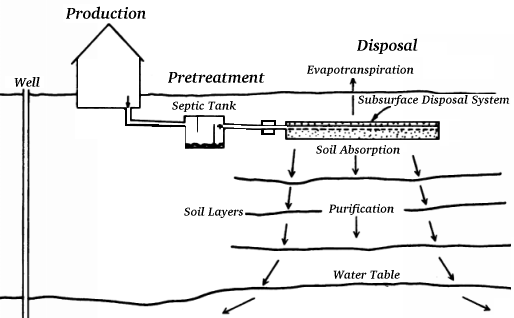 In the diagram, sewage travels to a leaching field after it goes through the septic tank. This is needed in places where they do not have good drainage.
Sandy sediments are necessary in order to oxidize the sewage water, and filter out the bacteria from it.
Ammonium that travels through the unsaturated zone is oxidized and converted to nitrate by the time it reaches the water table. Thus, areas with high populations that rely on septic tank systems have to be concerned about the possibility of the groundwater achieving high nitrate concentrations.